Amerikaanse B-17G(44-6078) crash in Boxmeer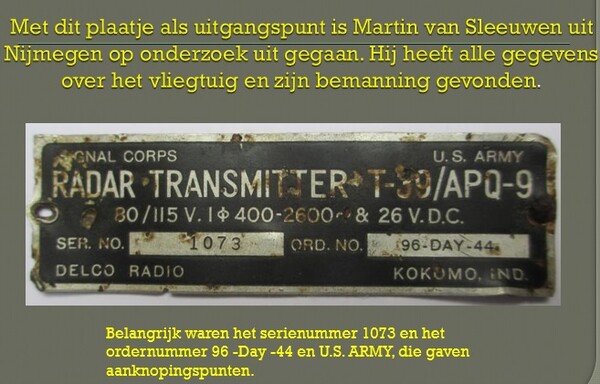 De Amerikaanse B-17G, kwam op 22 januari 1945 rond 14.15 neer in een veld, niet ver van de Maasoever in de buurt van de Veerstraat bij Boxmeer. Het toestel behoorde tot 351 Bomb Group en maakte deel uit van het 509th Bomb Squadron en werd gevlogen door First Lieutenant Richard (Dick) H. Goldsborough met Second Lieutenant Charles F. Balik als zijn copiloot.
Voor hen en de crew was het de 25e missie. De B-17G (44-6078, RQ-G) met de bijnaam Hard-Hearted-Mama, maakte op dat moment deel uit van Combat Mission 805 waarbij 206 B-17's en 258 jachtvliegtuigen, P-47 en P-51's, een bombardement op de Holten synthetische oliefabrieken bij Sterkrade. Dit Vliegende Fort had al het respectabele aantal van 58 missies gevlogen.
De Hard-Hearted-Mama was opgestegen van de basis Polebrook in Northamptonshire. Naast de eerste en tweede piloot waren aan boord Flight Officer John Romanishin als navigator, Technical Sergeant Tomas F. Kennedy de radiotelegrafist, Sergeant George F. Shirts als neusschutter, de rugkoepelschutter Technical Sergeant Carl F. Miller, de zijschutter Staff Sergeant Ramsey P. Fendall, de buikkoepelschutter Staff Sergeant John M. Kalapp en staartschutter Sergeant Jack T. Rushing.
Het voorste squadron bombardeerde de oliefabrieken visueel maar de leider van de volgende eenheid, kon zijn bommen niet op dit primaire doel afwerpen. Daarop vloog hij naar secundaire doel, het spoorwegrangeerterrein bij Rheine en wierp daar zijn bommen alsnog af. In de omgeving van de oliefabriek van Sterkrade stond veel radar gestuurde Flak opgesteld. Deze trof het tweede vliegtuig in de formatie waardoor twee motoren uitvielen. Om het vliegtuig lichter te maken werden de bommen gedumpt. Voor de rest van het squadron was dit aanleiding om ook de bommen af te werpen die daardoor allemaal veel te kort vielen. Ook de Hard-Hearted-Mama werd de getroffen door Flak waardoor motor drie uitviel. Direct na het passeren van Rheine bleef het achter in de formatie en draaide al klimmend naar links weg. Door andere B-17's in de formatie werd echter geen zichtbare schade aan het toestel gemeld. Door de uitval van de motor, die niet in de vaanstand kon worden gezet en dus sterk de snelheid afremde, maakte de Hard Hearted Mama zich los uit de formatie. Daarbij daalde de machine langzaam, nu op een zuidwestelijke koers. In de omgeving van Aken werd ook nog motor vier door luchtafweer getroffen. Het was duidelijk dat de thuisbasis in Engeland niet meer gehaald kon worden. Het was Dick Goldsborough's bedoeling om zolang door te vliegen dat de B-17 voorbij de frontlijn zou komen om dan, vanaf veilige hoogte, zijn bemanning van de parachute gebruik te laten maken. Nadat iedereen het toestel had verlaten trok hij de gashandel dicht waarop de B-17 in een spin kwam en al draaiende naar de aarde viel. Westelijk van de Maas, die op dat moment de grens tussen geallieerd en Duits gebied vormde, kon de gehele bemanning veilig uit het toestel springen dat juist oost van de Veerstraat noord van Boxmeer aan de oever van de Maas neerstortte in een sneeuw bedekt weiland (E772416). Deze sector van de Maas was in die periode frontlijn en werd aan de westzijde bezet door het B-Squadron van het Canadese 8th Recce Regiment. De inwoners van Boxmeer waren op dat moment geëvacueerd maar toch waren er enkele getuigen. Over het lot van de neusschutter Shirts bestond aanvankelijk enige onduidelijkheid. Goldsborough suggereerde tijdens zijn debriefing na de gevangenschap dat Shirts door het vuur vanaf de grond zou zijn gedood. Balik stelde in een interview uit de jaren negentig van de vorige eeuw dat Shirts al in het vliegtuig gewond was geraakt en te laat bij kennis kwam om nog op tijd te springen. Een getuige uit Boxmeer wist te vertellen dat hij heeft het vanaf een vleugel nog geprobeerd heeft te ontkomen. De hoogte was op dat moment te gering om een sprong met een parachute te overleven. Andere getuigenverklaringen zijn wat dat betreft in tegenspraak. Canadezen van het 8th Recce Regiment verklaarden negen parachutes te hebben gezien wat bevestigd werd door Duitse militairen. Enkele Boxmeerse getuigen noemden het getal van acht. Feit is dat het dode lichaam van een geallieerde vlieger op zaterdag 2 februari 1945 werd gevonden Bij de Middelsteeg in het Beugens veld dicht bij de Maas. Uit onderzoek bleek dat dit hier om Sergeant George F. Shirts betrof.
Tijdens de parachutedaling werd de bemanning, in het volle zicht van de Duitsers, door hen met luchtafweer onder vuur genomen. Daarbij werd navigator Romanishin in een been getroffen en raakte piloot Goldsborough gewond aan zijn elleboog. Enigszins afgedreven door de wind
kwamen de bemanningsleden, met uitzondering van Balik en Miller, op de oostelijke Maasoever in de omgeving van Afferden, enigszins verspreid, aan de grond. Zij werden al snel krijgsgevangen gemaakt.
Balik en Miller landden dicht bijeen op de westzijde van de Maas maar braken een been bij hun landing en hadden de pech dat zij gevangen werden genomen door een Duitse patrouille die met een rubberboot naar de geallieerde zijde was overgestoken. Hij werd geblinddoekt en met de rubberboot naar de andere zijde van de Maas gebracht. De gewonden werden eerst door een plaatselijke arts verzorgd die een van hen een morfine injectie die hem door Balik was gegeven.
Daarop werden zij naar een ziekenhuis in het Duitse Wezel gebracht. De Canadezen van het 8th Recce Regiment stuurden een patrouille van vier man naar de het wrak van de Fortress. Daaruit werden documenten en twee portefeuilles, een van Romanishin, het andere van Kennedy, zeker gesteld. De Canadese patrouille ontving daarop vanaf Duitse zijde geweer en mitrailleurvuur en vuur van een lichte mortier waardoor zij vast kwam te zitten tussen de dijk en de rivier. Ondersteunend vuur werd vanaf Canadese zijde aangevraagd en gekregen van een peloton van het Toronto Scottish Regiment waardoor een man zich terug konden trekken. De drie overigen waren gewond geraakt en werden achtergelaten. Daarop werd een nieuwe patrouille uitgezonden die de drie gewonden niet meer vond. Zij waren gevangen genomen door de Duitsers en over de Maas weggevoerd.
De gehele bemanning van de Hard-Hearted Mama belandde in gevangenschap. Fendall werd in dekking gehouden tijdens het gevecht tussen de Canadezen en Duitsers en daarna naar een Duitse commandopost gebracht. Daar ontmoette hij zijn vriend en marconist Tom Kennedy en de gewonde Romanishin. Beide begeleiden de gewonde naar een verbandpost. Uiteindelijk belandden de Amerikanen in het krijgsgevangenkamp Dulag Luft West te Oberursel in Hessen voor ondervraging en van daar naar het Stalag 7-A krijgsgevangenkamp in Mooseberg bij München . Een tweede Duitse patrouille werd in een Kübelwagen naar de Maas gestuurd om zo mogelijk het wrak te onderzoeken. In de omgeving van 'De Hooge Heide', nadat ze kasteel Bleijenbeek waren gepasseerd werd de Kübel gezien door een P-47. De vlieger van deze Thunderbolt nam het onder vuur waarbij Oberleutnant Otto Landwin en Oberfeldwebel Wolfgang Wunderlich en de chauffeur sneuvelden. Alleen Leutnant Hans-Georg Michael overleefde de beschieting, zij het zwaar gewond.
Dick Reijnen uit Boxmeer vond in de jaren '90 de exacte locatie van het neergestorte vliegtuig. Het begon met de vondst van een typeplaatje van de zender van de "Carpet III" Radar Jammer T-39/APQ-9 1 van de B-17.
Met dat plaatje als uitgangspunt is Martin van Sleeuwen op onderzoek uitgegaan. Hij heeft bijna alle gegevens over het vliegtuig en zijn bemanning gevonden. In 1999 ging Charles Balik, de inmiddels 73-jarige co-piloot van toen, met Dick Reijnen naar de plaats van de crash en vertelde daar hoe het er aan toe was gegaan; "Het vliegtuig was in een vaste stuurstand gezet, zodat het rondjes bleef vliegen, al kwam het wel steeds lager te hangen. De bemanningsleden hebben daarop allemaal op tijd van een goede hoogte kunnen springen, met uitzondering van de neusschutter" Shirts. Na de vondst van zijn lichaam werd hij te Beugen begraven en op 14 juli 1945 herbegraven op het Amerikaanse kerkhof te Margraten, vak KKK.10. 236. In januari 1949 werd zijn stoffelijk overschot overgebracht naar Cameron Missouri, de woonplaats van zijn ouders.
Het was voor Dick een hele ervaring toen die piloot zo voor hem stond. Balik heeft na de oorlog nog dertig jaar op een groot burgervliegtuig gevlogen. Dick Reijnen meldde nog een bijzonder detail met betrekking tot deze crash. Een boer uit de omgeving maakte van een van de vleugels van de B-17 een roeiboot, die hij later echter weer moest inleveren bij de Amerikanen.
NIMH, Vliegtuigcrashes 1940-1945, Toegang 798, Inventarisnummers 146; US National Archives, Washington, MACR 12011; National Archives of Canada, War Diaries of the 8th Canadian Reconnaissance Regiment/ 14th Canadian Hussars, Toronto Scottish Regiment en 2nd Canadian Division; Freeman, R.A. Mighty eight war diary.London, 1981; Cashdollar, P.K. In harm's way. Stories of American Prisoners of war in Germany. Orlando, 2001; Jong, de, I. Geachte redactie. Bulletin Air War 1939-1945, 181 (1995); Sleeuwen, M. van, In: Oorlog aan de Maas, Boxmeer, 1994; Vervest, F., Sleeuwen, M. van en H. Smeets, Stevensbeek 50. Stevensbeek, 1984; Sleeuwen, M. van, "Geachte Redactie…". Bulletin Airwar 1939-1945, 175 (1994; Sleeuwen, M. van, "Geachte Redactie…". Bulletin Airwar 1939-1945, 186 (1995; Trees, W. Krieg ohne Sieg. Aken, 1978; Dagboek A. Albers Rijkevoort, via M. van Sleeuwen;
1 De Carpet III Radar Jammer T-39/APQ-9, van Amerikaans fabricaat, was een stoorzender voor gebruik aan boord van vliegtuigen. Het stoorde de frequenties van de zendsignalen van de Duitse Würzburg richt- en volgradars door het Duitse signaal van de roterende dipool in tegenmodulatie terug te zenden.
Tekst Ruud Wildelkamp wijlen.
De complete bemanning van Hard Hearted Mama B 17G: foto eigendom Guido Siebers Boxmeer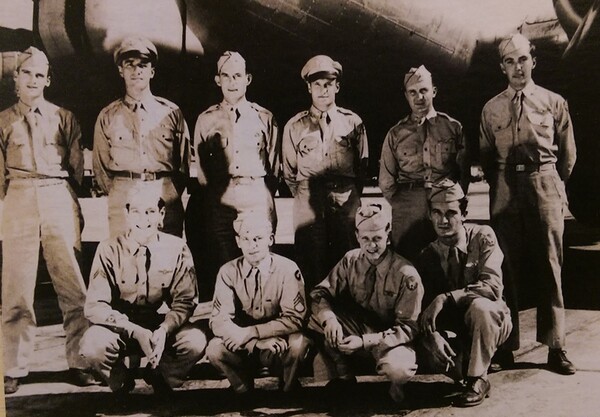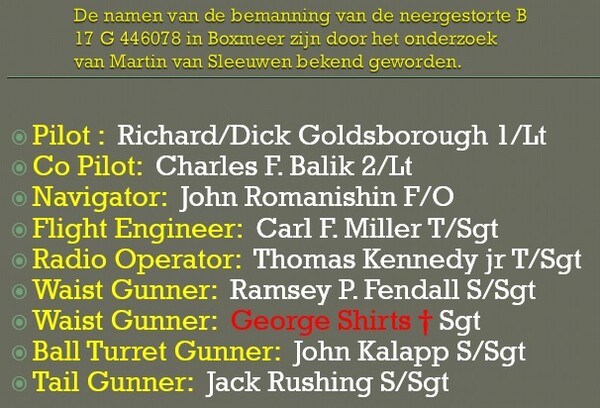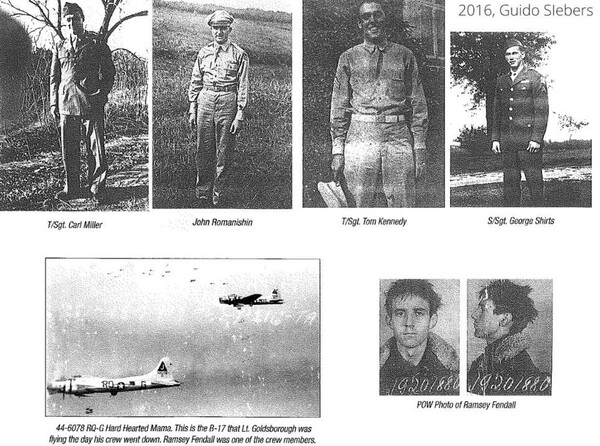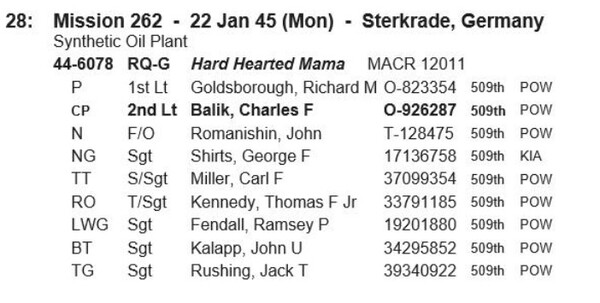 B 17-G Crash Boxmeer, 22-01-1945

Type: B 17-G
Registration: 44-6078 "Hard Hearted Mama"
Unit: 351st Bomb Group – 509th Bomb Squadron
Base: Polebrook, Northamptonshire, UK

Mission:
Date: Jan. 22, 1945
Target: Sterkrade (H2X)
Dispatched: 36
Attacked :14
Leader: Maj. Roper
Bombardment of Synthetic oil plant, Sterkrade (Oberhause, Germany)

Crashsite/datum:
Riverbank Maas, Boxmeer (The Netherlands). 22 januari 1945
Hour of crash: +/- 14:15

Reason crash:
Flak

Last registrated:
Time: 13.30 uur
Position: 51.31°N/06.48°E
Altitude: 25.000 feed
Heading: Oost

Crew:
8 POW
1 KIA


Crew:
1st Lieutenant Goldsborough, Richard H. "Dick"
0-823354
Pilot
U.S. Army Airforce
Bron 24 maart 1924
Birth place: Pittsburgh, Pennsylvania
Enlisted: 5 februari 1943, Miami Beach, Florida, USA
POW: Stalag Luft 3, Sagan (Zagen, Polen)


2nd Lieutenant Balik, Charles Frederick
0-926287
Co-Pilot
U.S. Army Airforce
Medals: Purple Heart, Air medal 3 oak leaf clusters
Born: 28 januari 1923
Birth Place: New Brighton, Beaver County Pennsylvania
Died: 9 juni 2008
Cemetery: Arlington National Cemetery, Washington D.C.
POW: till 3 februari 1945



Flying Officer Romanishin, John
T-128475
Navigator
U.S. Army Airforce
Born: 12 maart 1918
Birthplace: Millville, New Jersey
POW: Yes
Wounds after crash: Shot in leg while coming down with parachute

Staf Sergeant Fendall, Ramsey P.
19201880
Air gunner –waist gunner
U.S. Army Airforce
Born: 1923
Birth place: Portland, Oregon
Enlisted: 10 oktober 1943, Buckleyfield, Denver, Colorado
POW: Stalag Luft 3. Sagan (Zagen, Polen)


Staf Sergeant Kalapp, John Melton
34795852
Air gunner – ball turret gunner
U.S. Army Airforce
Born: 8 april 1931
Birth place: Jacksonville, Florida
Enlisted: 13 december 1943, CP Blanding, Florida
POW: Yes


Technical Sergeant Kennedy, Thomas Francis jr.
33791485
Wireless Operator
U.S. Army Airforce
Born1924
Brith place: Philadelphia, Pennsylvania
Enlisted: 22 juli 1943, Philadelphia, Pennsylvania
POW: Ja


Technical Sergeant Miller, Carl F.
37099324
Flight Engineer / Air gunner – top turret
U.S. Army Airforce
Born: 10 juni 1916
Birthplace: Lincoln, Arkansas
POWE: Stalag Luft 12A Limburg a.d. Lahn
Wounds after crash: After coming down with parachute a broken ankle. Taken tot civil hospital at Wesel


Sergeant Rushing, Jack Thomas
39340922
Air gunner – tail gunner
U.S. Army Airforce
Bron: 16 mei 1922
Brith place: Gresham, Oregon
Enlisted: 18 oktober 1943, Portland, Oregon
POW: Ja


Sergeant Shirts, George F.
17136758
Air gunner – nose gunner
U.S. Army Airforce
Bron: 16 december 1925
Birth place: Comeron, Missouri
KIA: 22 januari 1945
Cemetery: McDaniel Cemetery, Cameron, Caldwell County
Overig: Not know if he bailed out with parachute, or was left in the place when it crashed.
Tekst Guido Siebers
Englisch:
The American B-17G, came down on January 22, 1945 around 14.15 in a field, not far from the Maasoever near the Veerstraat near Boxmeer. The aircraft belonged to 351 Bomb Group and was part of the 509th Bomb Squadron and was flown by First Lieutenant Richard (Dick) H. Goldsborough with Second Lieutenant Charles F. Balik as its co-pilot.
It was the 25th mission for them and the crew. The B-17G (44-6078, RQ-G), nicknamed Hard-Hearted-Mama, was part of Combat Mission 805 at the time, with 206 B-17s and 258 fighters, P-47 and P-51s, a bombing of the Holten synthetic oil mills near Sterkrade. This Flying Fortress had already flown the respectable 58 missions.
The Hard-Hearted-Mama had taken off from the Polebrook base in Northamptonshire. In addition to the first and second pilots, Flight Officer John Romanishin as navigator, Technical Sergeant Tomas F. Kennedy were on board the radio operator, Sergeant George F. Shirts as a gunner, the turret gunner Technical Sergeant Carl F. Miller, the side gunner Staff Sergeant Ramsey P. Fendall , the abdominal gunner Staff Sergeant John M. Kalapp and tail gunner Sergeant Jack T. Rushing.
The front squadron visually bombed the oil mills, but the leader of the next unit was unable to drop its bombs on this primary target. He then flew to the secondary target, the railway yard at Rheine and dropped his bombs there. A lot of radar-controlled Flak was installed in the vicinity of the Sterkrade oil factory. This hit the second aircraft in the formation, causing two engines to fail. The bombs were dropped to make the plane lighter. This prompted the rest of the squadron to drop bombs, which all fell far short of this. The Hard-Hearted-Mama was also hit by Flak, causing engine three to fail. Immediately after passing Rheine it remained behind in the formation and turned to the left while climbing. However, no visible damage was reported to the aircraft due to other B-17s in the formation. Due to the failure of the engine, which could not be put in the feathering position and thus strongly slowed down the speed, the Hard Hearted Mama broke away from the formation. In addition, the machine slowly descended, now on a southwestern course. In the vicinity of Aachen, engine four was also hit by anti-aircraft fire. It was clear that the home base in England could no longer be reached. It was Dick Goldsborough's intention to fly so long that the B-17 would pass the frontline and then allow his crew to use the parachute from a safe height. After everyone had left the aircraft, he closed the throttle on which the B-17 spun and fell to the ground while spinning. West of the Maas, which at that time formed the border between the Allied and German areas, the entire crew could safely jump out of the aircraft that just crashed east of the Veerstraat north of Boxmeer on the bank of the Maas in a snow-covered meadow (E772416 ). This sector of the Meuse was front line in that period and was occupied on the west side by the B-Squadron of the Canadian 8th Recce Regiment. The inhabitants of Boxmeer had been evacuated at the time, but there were still some witnesses. Initially there was some uncertainty about the fate of the nose gunner Shirts. Goldsborough suggested during his post-captivity debrief that Shirts had been killed by fire from the ground. In an interview from the 1990s, Balik stated that Shirts had already been injured on the plane and had learned too late to jump on time. A witness from Boxmeer told that he tried to escape from a wing. At that time, the height was too small to survive a parachute jump. Other witness statements are in contradiction in that regard. Canadians of the 8th Recce Regiment reported seeing nine parachutes confirmed by German military personnel. Some Boxmeer witnesses mentioned the number eight. The fact is that the dead body of an Allied pilot was found on Saturday February 2, 1945 at the Middelsteeg in the Beugens field close to the Maas. Investigations revealed that this concerned Sergeant George F. Shirts.
During the parachute descent, the crew, in full view of the Germans, was attacked by them with anti-aircraft fire. In the process, navigator Romanishin was hit in the leg and pilot Goldsborough was injured in the elbow. Slightly drifted by the wind
The crew members, with the exception of Balik and Miller, landed on the eastern bank of the Maas in the vicinity of Afferden, somewhat dispersed. They were soon taken prisoner of war.
Balik and Miller landed close together on the west side of the Meuse, but broke a leg on landing and were unlucky to be captured by a German patrol that had crossed the Allied side by rubber dinghy. He was blindfolded and brought to the other side of the Maas by rubber dinghy. The injured were first cared for by a local doctor who gave one of them a morphine injection given to him by Balik.
They were then taken to a hospital in Wezel, Germany. The Canadians of the 8th Recce Regiment sent a four-man patrol to the wreck of the Fortress. This secured documents and two wallets, one by Romanishin, the other by Kennedy. The Canadian patrol then received rifle and machine gun and fire from a light mortar from the German side, causing her to get stuck between the dike and the river. Supporting fire was requested from the Canadian side and received from a platoon from the Toronto Scottish Regiment that allowed a man to withdraw. The three others were injured and left behind. A new patrol was then dispatched that no longer found the three injured. They had been captured by the Germans and taken over the Maas.
The entire crew of the Hard-Hearted Mama ended up in captivity. Fendall was kept under cover during the battle between the Canadians and Germans and then taken to a German command post. There he met his friend and radio operator Tom Kennedy and the injured Romanishin. Both accompany the injured person to a dressing station. Eventually, the Americans ended up in the Dulag Luft West prisoner of war camp in Oberursel in Hesse for interrogation and from there to the Stalag 7-A prisoner of war camp in Mooseberg near Munich. A second German patrol was sent to the Maas in a Kübelwagen to investigate the wreck if possible. In the vicinity of "De Hooge Heide", after they passed castle Bleijenbeek, the Thing was seen by a P-47. The pilot of this Thunderbolt fired at it, killing Oberleutnant Otto Landwin and Oberfeldwebel Wolfgang Wunderlich and the driver. Only Leutnant Hans-Georg Michael survived the shooting, albeit badly injured.
Dick Reijnen from Boxmeer found the exact location of the crashed plane in the 1990s. It started with the discovery of a nameplate of the transmitter of the "Carpet III" Radar Jammer T-39 / APQ-9 1 of the B-17.
Martin van Sleeuwen has investigated this picture as a starting point. He found almost all data about the plane and its crew. In 1999 Charles Balik, the now 73-year-old co-pilot of the time, went with Dick Reijnen to the crash site and told how it had gone; "The plane was put in a fixed steering position, so that it kept flying in circles, although it was getting lower and lower. The crew members were all able to jump from a good height on time, with the exception of the nose gunner "Shirts. After the discovery of his body, he was buried in Beugen and reburied on 14 July 1945 in the American cemetery in Margraten, section KKK.10. 236. In January 1949, his remains were transferred to Cameron Missouri, where his parents lived.
It was quite an experience for Dick when that pilot stood before him. Balik flew on a large civilian plane for another thirty years after the war. Dick Reijnen reported another special detail regarding this crash. A local farmer turned one of the wings of the B-17 into a rowing boat, which he later had to return to the Americans.
NIMH, Airplane Crashes 1940-1945, Access 798, Inventory Numbers 146; US National Archives, Washington, MACR 12011; National Archives of Canada, War Diaries of the 8th Canadian Reconnaissance Regiment / 14th Canadian Hussars, Toronto Scottish Regiment and 2nd Canadian Division; Freeman, R.A. Mighty eight war diary. London, 1981; Cash Dollar, P.K. In harm's way. Stories of American Prisoners of war in Germany. Orlando, 2001; Young, de, I. Dear editor. Bulletin Air War 1939-1945, 181 (1995); Sleeuwen, M. van, In: War on the Maas, Boxmeer, 1994; Vervest, F., Sleeuwen, M. van and H. Smeets, Stevensbeek 50. Stevensbeek, 1984; Sleeuwen, M. van, "Dear Editor…". Bulletin Airwar 1939-1945, 175 (1994; Sleeuwen, M. van, "Dear Editor…". Bulletin Airwar 1939-1945, 186 (1995; Trees, W. Krieg ohne Sieg. Aachen, 1978; Diary A. Albers Rijkevoort, via M. van Sleeuwen;
1 The Carpet III Radar Jammer T-39 / APQ-9, of American manufacture, was a jammer for use on aircraft. It interfered with the frequencies of the transmitting signals of the German Würzburg directional and tracking radars by returning the German signal from the rotating dipole in counter-modulation.
Text Ruud Wildelkamp.